Published on
Welcome Daniel Williams, Useful's Engineering Leader
Authors
I'm so thrilled to announce that Daniel Williams has joined Useful as Engineering Leader. I can't wait to build the fastest storytelling experience for product teams with him.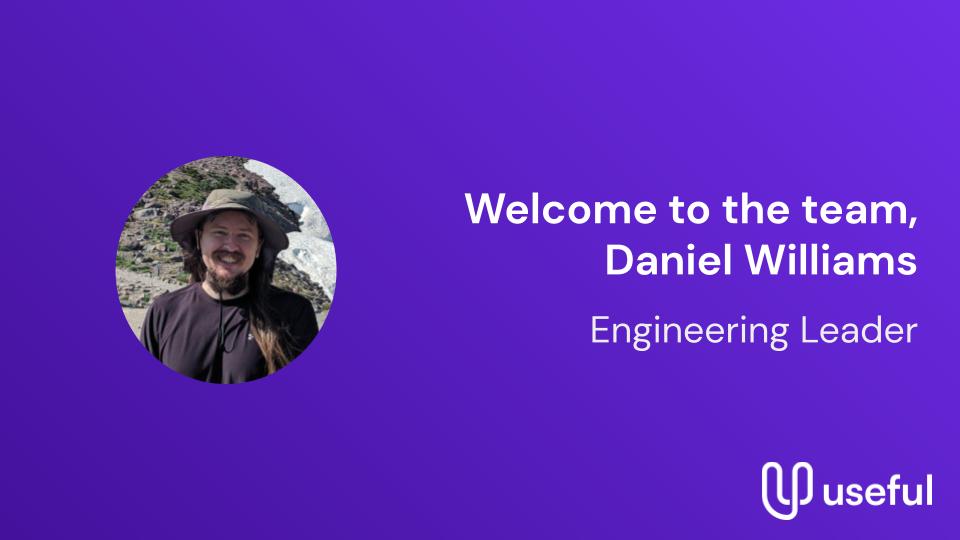 What makes Daniel awesome?
Prior to joining Useful, Daniel was a software engineering manager at Amazon in the Consumer Electronics division focusing specifically on mobile products. He led an engineering team of 12 through notable global launches including prepaid wireless subscriptions for Cricket, Tracfone, and postpaid for Vodafone, along with generic systems for 3rd party vendors to integrate into the Amazon purchase flow impacting millions of customers worldwide. His team unlocked delightful customer experiences like instantaneous credit checks upon purchase of wireless service. Prior to his time at Amazon, he worked on Machine Zone on chart-topping games like Game of War, Mobile Strike, and Final Fantasy serving millions of players around the globe.
Why are we so excited?
Not only does Daniel share our values of relentless focus on the customer, and exceptional product quality, he also brings a ton of technical expertise having built and managed complex distributed systems at Amazon-level scale. He's an incredible executor and gets things done with a level of pragmatism and urgency that is exactly what we need in an engineering leader as we go from 0—> 1! What really stood out to me however was Daniel's leadership. He's a fantastic people leader, and brings a wealth of operational excellence to team building through his commitment to continuously raising the bar of the team. He's remarkably empathetic and fosters environments that bring out the best in people.
About us
We're beyond excited to have Daniel join us on our mission to help companies build products their customers love. We're building the fastest way for product managers to tell inspiring stories through the voice of the customer. If this sounds exciting and you'd like to work alongside incredible people like Daniel, we're hiring!
---