Published on
Welcome Thomas Amador, Useful's Design Leader
Authors
Team Useful grew a little bit more today! I'm so thrilled to announce that Thomas Amador has joined Useful as Design Leader. I can't wait to build the fastest storytelling experience for product teams with him.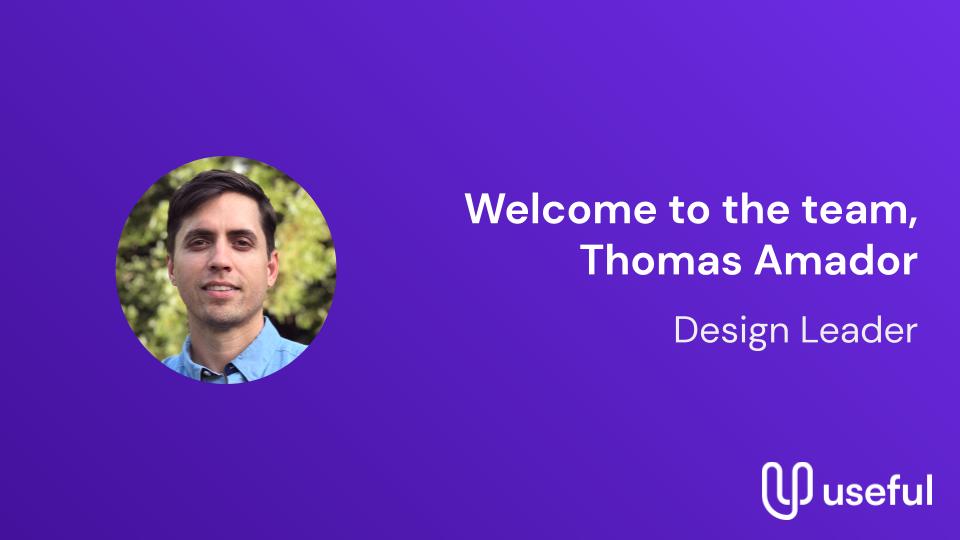 What makes Thomas awesome?
Prior to joining Useful, Thomas was a senior manager of UX at Charles Schwab. While at Schwab, he worked directly with a product director to create a new product vision that led to forming an 80+ person team over all digital onboarding.
Three months into the global pandemic, he helped design and co-lead Schwab's largest ever remote workshop series for a cross-functional team of over 50 people across three time zones. The processes developed from that early experience are being used today to help teams at Schwab collaborate and align in a hybrid working environment. As part of a talented UX team, he helped redesign the new client onboarding experience with a modular, content-first approach that is now scaled to over 45 different account types encompassing all accounts opened online with Schwab.
Most recently he led an all-star UX team creating innovative digital experiences for Schwab's managed investing clients through continuous discovery and delivery that utilized 'radical collaboration' processes between Product, Tech and UX.
Why are we so excited?
One of the most exciting aspects of our interview process was hosting a brainstorming session with Thomas. He explored innovative, but pragmatic solutions to complex design problems and drew context and inspiration from creative sources that led to such an invigorating discussion it left us buzzing. He's a true craftsman - detail oriented, meticulous in work, and deliberate in his execution -a true embodiment of our values of "Deliver delight" and "Consistent quality."
However, what struck a chord with our team the most was how passionate, empathetic, and inclusive Thomas is as a designer. Throughout the conversations and reference calls we've had, this was the most consistent theme. No matter the complexity or scale of a problem, Thomas can shepherd his team through the unknown and bring everyone along for the ride.
About us
We're beyond excited to have Thomas join us on our mission to help companies build products their customers love. We're building the fastest way for product managers to tell inspiring stories through the voice of the customer. If this sounds exciting and you'd like to work alongside incredible people like Thomas, we're hiring!
---