Published on
Welcome Yuri Sulyma, Software Engineer
Authors

Name

Name

Engineering Leader
I'm so thrilled to announce that Yuri Sulyma has joined Useful as one of our first Software Engineers. I can't wait to build the fastest storytelling experience for product teams with him.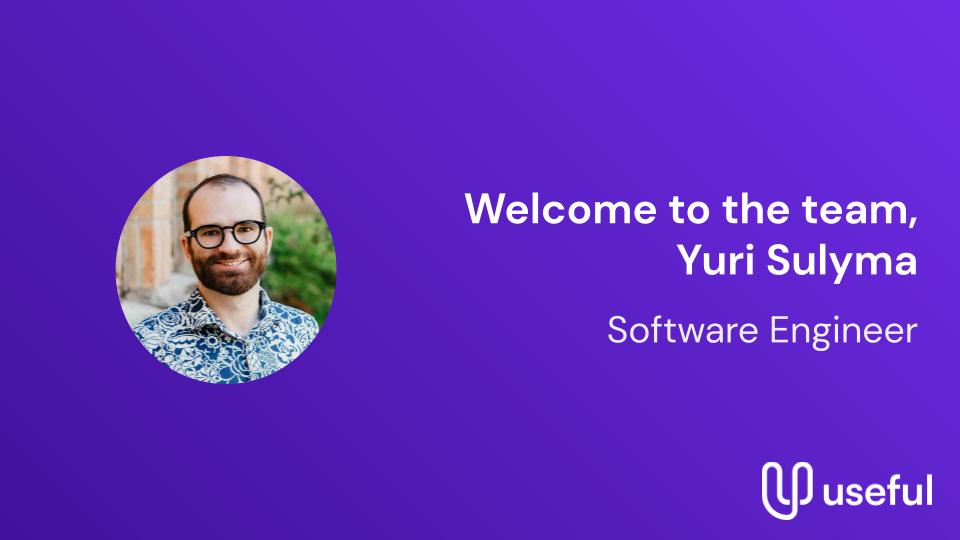 What makes Yuri awesome?
Yuri's background encompasses pure mathematics, education, and full-stack web development. As a developer, he is a pioneer in the interactive video space, with additional experience in visualization and social media apps. Prior to joining Useful, he was in the math department at Brown University.
Yuri is best known as the creator of Liqvid, a library for creating interactive videos in React. Combining his work as a developer and as an educator, he has produced many interactive videos teaching coding and math, often in conjunction. A decade earlier, as an undergrad at the University of Alberta, he built Bearbook, a popular Facebook app for students on campus.
Why are we so excited?
Yuri immediately struck us as a brilliant, quick, and deliberate engineer. His intellectual candor especially stood out and reflects the growth mindset and hunger to learn that we strive for and believe is a universal quality of remarkable teams. The quality of his code sets a high bar and reminds us why building great products starts first with the systems and software that power them. We're charting new territory at Useful and Yuri doesn't hesitate to roll up his sleeves and work on challenging, ambiguous problems.
About us
We're beyond excited to have Yuri join us on our mission to help companies build products their customers love. We're building the fastest way for product managers to tell inspiring stories through the voice of the customer. If this sounds exciting and you'd like to work alongside incredible people like Yuri, we're hiring!
---