Published on
Welcome Eitan Sternlicht, Software Engineer
Authors

Name

Name

Engineering Leader
I'm so thrilled to announce that Eitan Sternlicht has joined Useful as one of our first Software Engineers. I can't wait to build the fastest storytelling experience for product teams with him.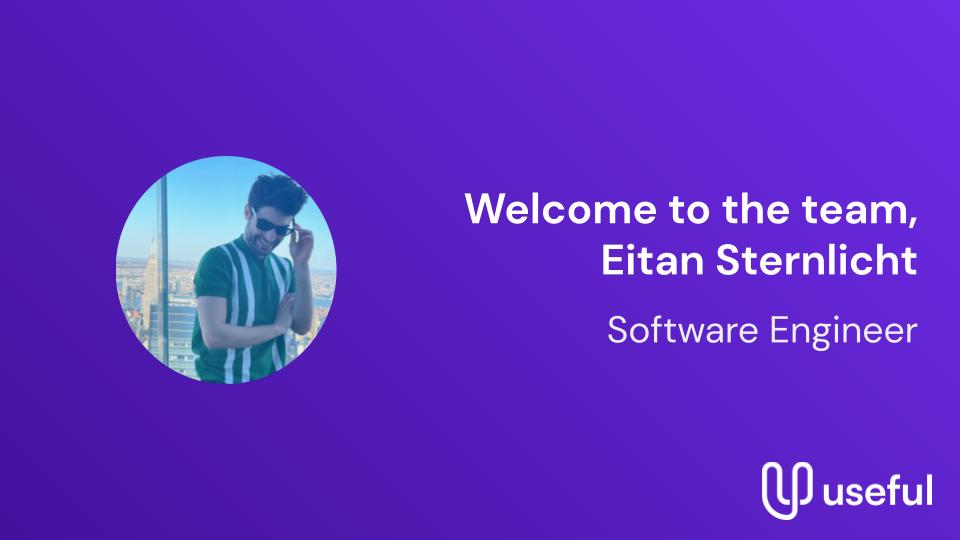 What makes Eitan awesome?
Before joining Useful, Eitan was a Full Stack Engineer on the Investor Experience team at Cadre. At Cadre he led multiple projects while obsessing over the user experience in addition to the developer experience, and internal user experience.
Before Cadre Eitan worked at Mobileye, a company building self-driving cars, where he designed and developed an internal tool which helped engineers sift through terabytes of data and gain insights about how their algorithms were performing under a multitude of different driving conditions.
Why are we so excited?
Eitan's passion and talent is immediately evident to anyone who works with him. He's distinguished himself with deep technical knowledge and skill, swiftness to step up to challenges and responsibilities, and thoughtful care about the details that create great products and great user experiences. His ambition to pursue the huge opportunity in front of us at Useful is contagious and we count ourselves lucky that he's part of the team!
About us
We're beyond excited to have Eitan join us on our mission to help companies build products their customers love. We're building the fastest way for product managers to tell inspiring stories through the voice of the customer. If this sounds exciting and you'd like to work alongside incredible people like Eitan, we're hiring!
---