Published on
Welcome Ian Rosenbery, Software Engineer
Authors

Name

Name

Engineering Leader
I'm so thrilled to announce that Ian Rosenbery has joined Useful as one of our first Software Engineers. I can't wait to build the fastest storytelling experience for product teams with him.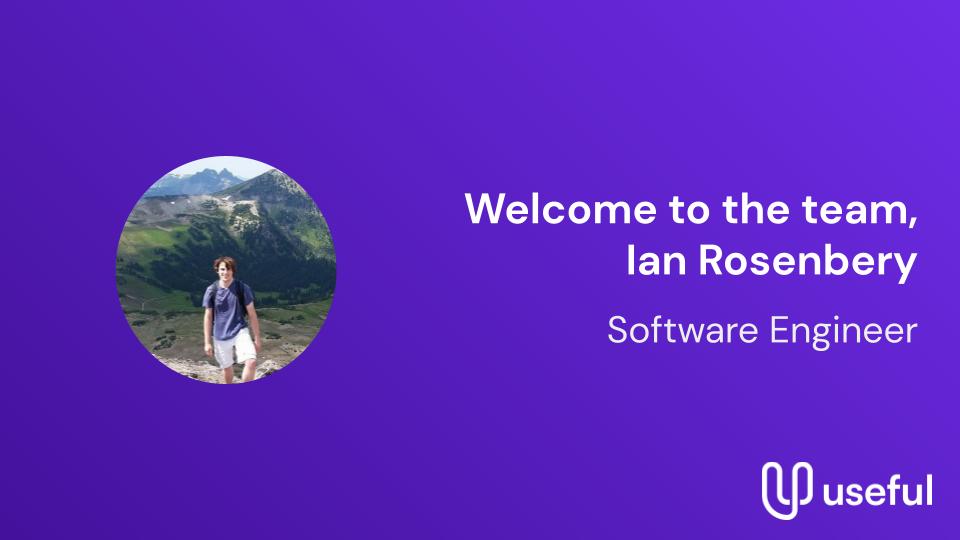 What makes Ian awesome?
Ian most recently was at Cipher Mode Labs where he worked on enterprise software and infrastructure to support Secure Multi-Party Computation.
Before Cipher Mode, Ian worked at Amazon for 8 years. He contributed to AWS Work Suite, many projects in Consumer Electronics notably working on subscriptions for wireless service, and also new warehouse management software as part of Distribution Center Tech.
Why are we so excited?
Ian has a track record of improving and developing every engineering team he joins. He is a true force multiplier and accelerates everyone he works with. He also has extremely high standards for his work and makes it easy for his team to meet them. After his success at Amazon he caught the startup bug and we are super lucky to have him join our team!
About us
We're beyond excited to have Ian join us on our mission to help companies build products their customers love. We're building the fastest way for product managers to tell inspiring stories through the voice of the customer. If this sounds exciting and you'd like to work alongside incredible people like Ian, we're hiring!
---