Published on
Welcome Preston Thompson, Software Engineer
Authors

Name

Name

Engineering Leader
I'm so thrilled to announce that Preston Thompson has joined Useful as one of our first Software Engineers. I can't wait to build the fastest storytelling experience for product teams with him.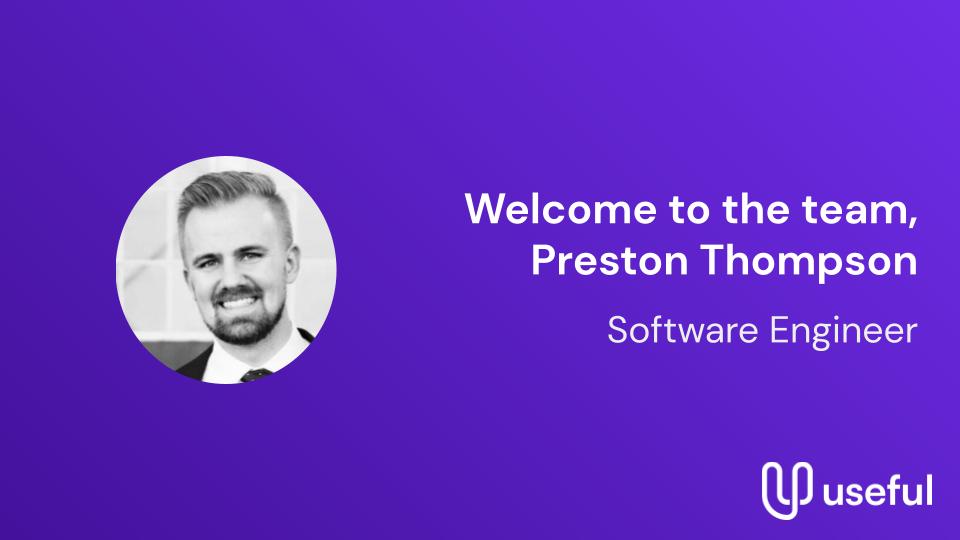 What makes Preston awesome?
Preston spent 8 years helping Braze grow from 30 employees to over 1,200. During his time at Braze, he worked on and helped form a variety of backend engineering teams across disciplines like product development, data infrastructure, cloud-native applications, and software development lifecycle technology. Preston helped design and implement two of Braze's core features: Canvas, a user journey orchestration tool, and Currents, a real time event data stream.
Why are we so excited?
We're so fired up to have Preston aboard as he brings a wealth of experience growing world-class engineering teams. Not only has he built multiple products and teams from 0 → 1, he has a real passion for high quality software, leveraging the best tools and practices from the broader software engineering community. He's remarkably thoughtful and deliberate in his execution, and we're incredibly grateful to have him on the team as we bring the first version of Useful to market.
About us
We're beyond excited to have Preston join us on our mission to bring companies closer to their customers. We're building the most powerful way for product managers to communicate customer needs to their teams. If this sounds exciting and you'd like to work alongside incredible people like Preston, we're hiring!
---